WHAT IS KINETIC SCULPTURE?
In New York Natives' Artbeat film, Camilla Webster asks "what is kinetic sculpture?' to Charlie Davidson at the Maxwell Davidson Gallery.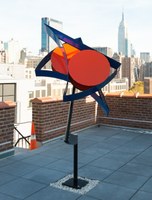 Kevin Osmond's dealer gallery in the heart of NYC's Chelsea is the setting for an exhibition by Pedro de Movellan. In her Artbeat film for the New York Natives website, Camila Webster discusses de Movellan's kinetic sculpture with art dealer Charlie Davidson.
View the film at https://www.youtube.com/watch?v=LmkRP8gmHKE